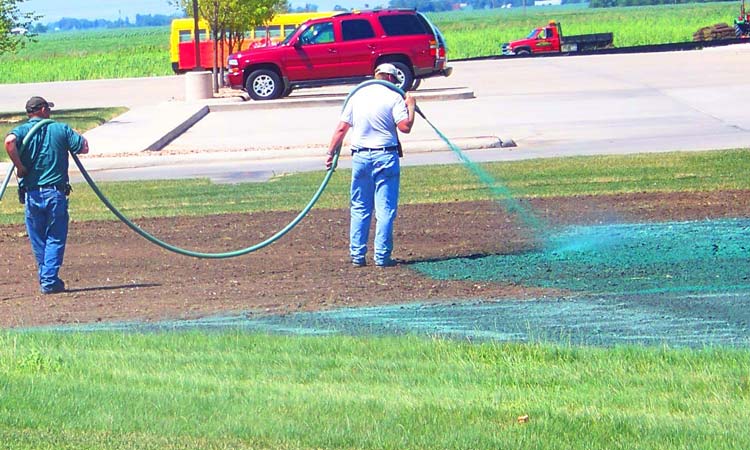 If you're looking for better results than conventional seeding and overseeding methods, then you're looking for the state-of-the-art hydroseeding techniques available from the experts at JM Lawn & Landscape.
Hydroseeding is a process that's becoming more common as it provides a better & faster germination rate than regular seeding methods. It doesn't provide the instant gratification that sod does, but it comes at a much more budget-friendly price with lush, green results.. Our hydroseeding services are available on any grade, from flat grounds to severe slopes. Hydroseeding it a great option for new construction but can also be used to thicken existing lawns. Call us today at 515-233-1201 for a FREE estimate.
Hydroseeding is a method of planting grass seed that combines the seed, fertilizer, growth stimulant and a tacking agent with a protective fiber mulch covering in a slurry mixture. The slurry is than sprayed or painted on to prepared soil. This covering gives the seed a better chance to germinate, and the fertilizer and growth stimulant provide you with a thicker, more beautiful lawn. To get your project started, talk to the expert team with more than 70 years of combined experience at JM Lawn & Landscape. We make your lush lawn dreams come true!
JM Lawn & Landscaping is the perfect choice for the best hydroseeding service in Ames, Iowa, Story County, and Surrounding Areas. Contact Us today for a FREE estimate!
---